2022 has passed with many fluctuations in the Finance – Technology field. Let's look back 2022 by memorable events and highlights of Vconomics!
With the relentless efforts of the development team, Vconomics has had many achievements and overcome many challenges this year. We would like to express our sincerest thanks to the community who have accompanied the project for the past 1 year. Vconomics is extremely grateful for your trust and support.
1. Highlights
1.3. Listing
Listing MICS on PancakeSwap on 02/2022
Adding liquidity pool on 07/2022
1.1. Growth
1 MILLION users after 6 months release (01/2022)
3 MILLION users after 8 months release (02/2022)
4 MILLION users after 9 months release (03/2022)
1.2. New functions
Vpool: Staking pool with APY up to 12%, brings long-term profits for users
Defibattle: GameFi Play-To-Learn
Vconomics Voucher: Shopping function with exclusive Voucher in diversified industries, unlimited cashback,…
Vuniverse: Mental universe with Vlove, Vwish, Videa
Swap MICS: Allowing users swap MICS two-side between Spot wallet and Blockchain wallet
Vesting token: Supporting vesting MICS to Blockchain wallet and vesting other token
2FA security: Ensuring the safe for user's account by Email and Google Authentication securities.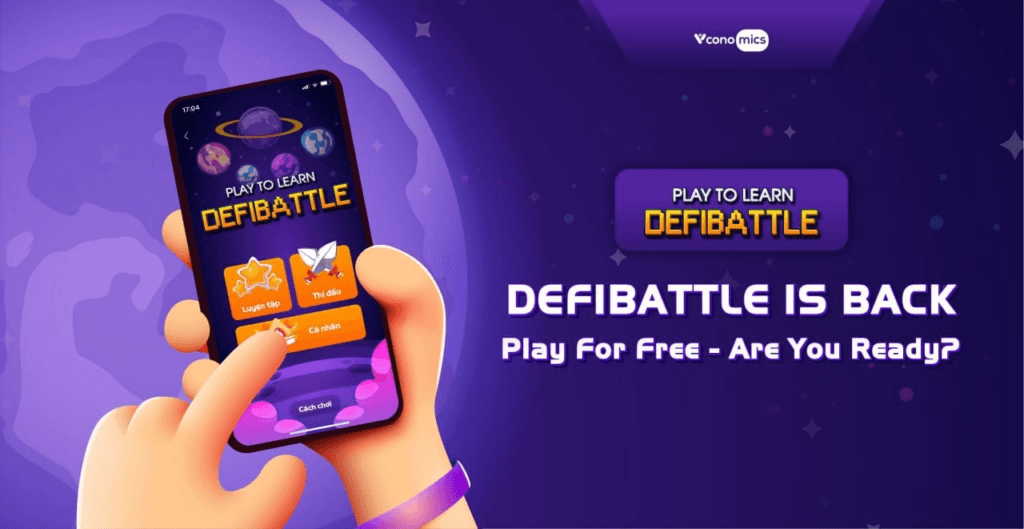 2. Partnership
2.1. AccessTrade (06/2022)
The "handshake" between Vconomics and ACCESSTRADE opened up new development opportunities for both sides in the field of Finance – Technology – Affiliate Marketing. This was also the sustainable direction of the two businesses with the goal of expanding the market, developing the economy and bringing benefits to individual customers.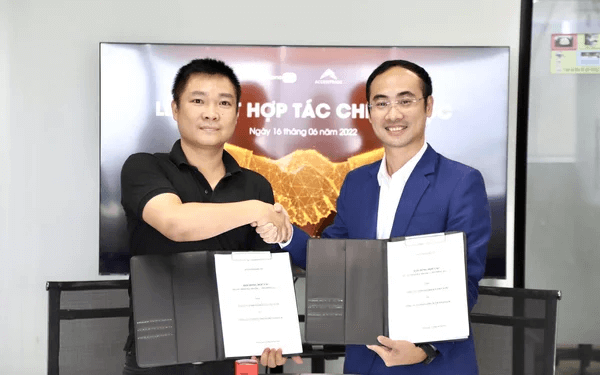 2.2. BlockchainWork (06/2022)
BlockchainWork, chuyên trang tuyển dụng và kết nối những tài năng lĩnh vực blockchain trong và ngoài nước đã chính thức trở thành đối tác truyền thông của Vconomics.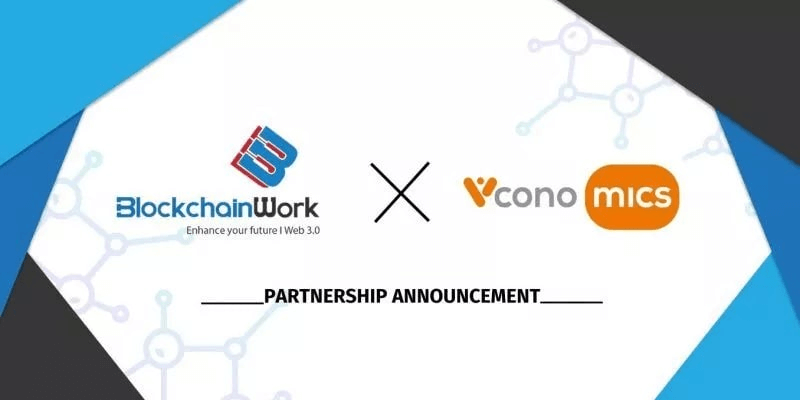 2.3. S.H.E Blockchain (06/2022)
Vconomics became a media partner with S.H.E Blockchain – the women-centered education and career development organization.
2.4. AIS (09/2022)
AIS has more than 15 years of experience in the securities industry with a huge charter capital of up to 1,500 billion VND. The combination of Vconomics and AIS will open up rich investment opportunities for global users.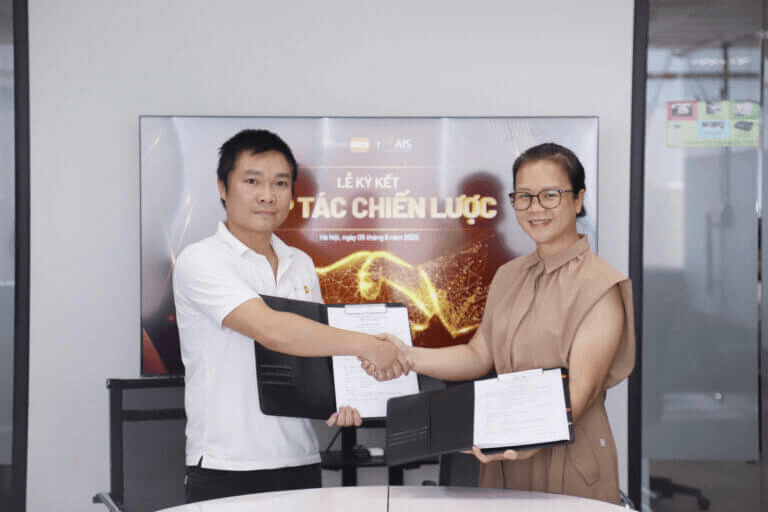 2.5. BlockX (11/2022)
Vconomics officially became media partner of BlockX – DAO platform supporting WEB3 project increasing attraction and engagement of users by providing DAO liquidity, creator DAO for creators and pool rewards.
3. Vconomics on air
3.1. Vietnam Integration Megazine
Vietnam Integration Megazine – Information Agency for Foreign Affairs and Science Institute of Policy, Law and Management, has reported on the strategic cooperation between Vconomics and AccessTrade.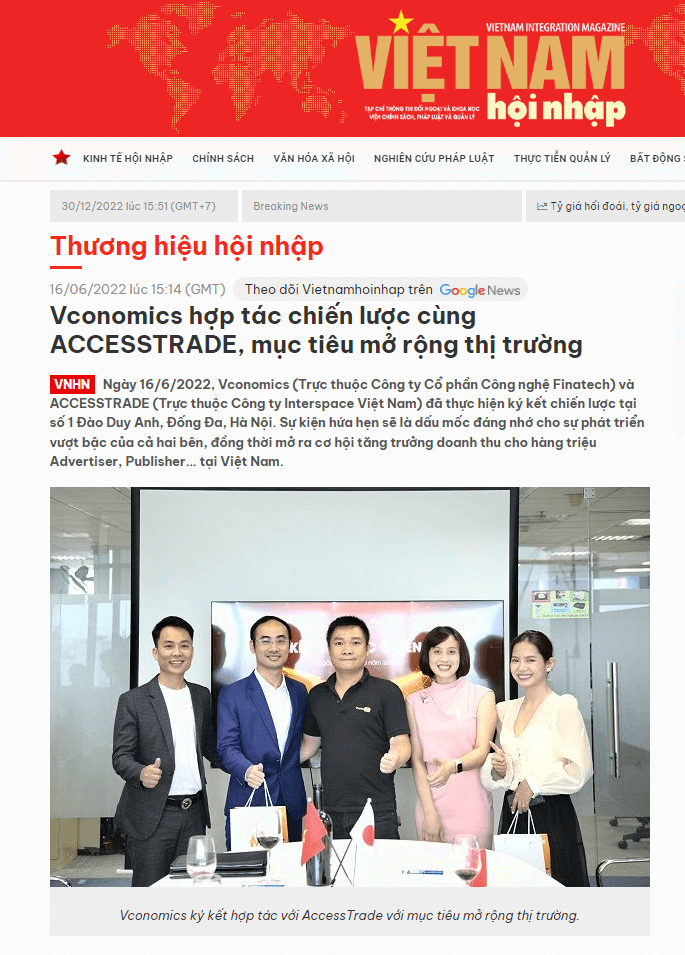 3.2. Brands Vietnam
Brands Vietnam – The comprehensive Marketing and Branding community in Vietnam has announced the signing event between Vconomics and AccessTrade.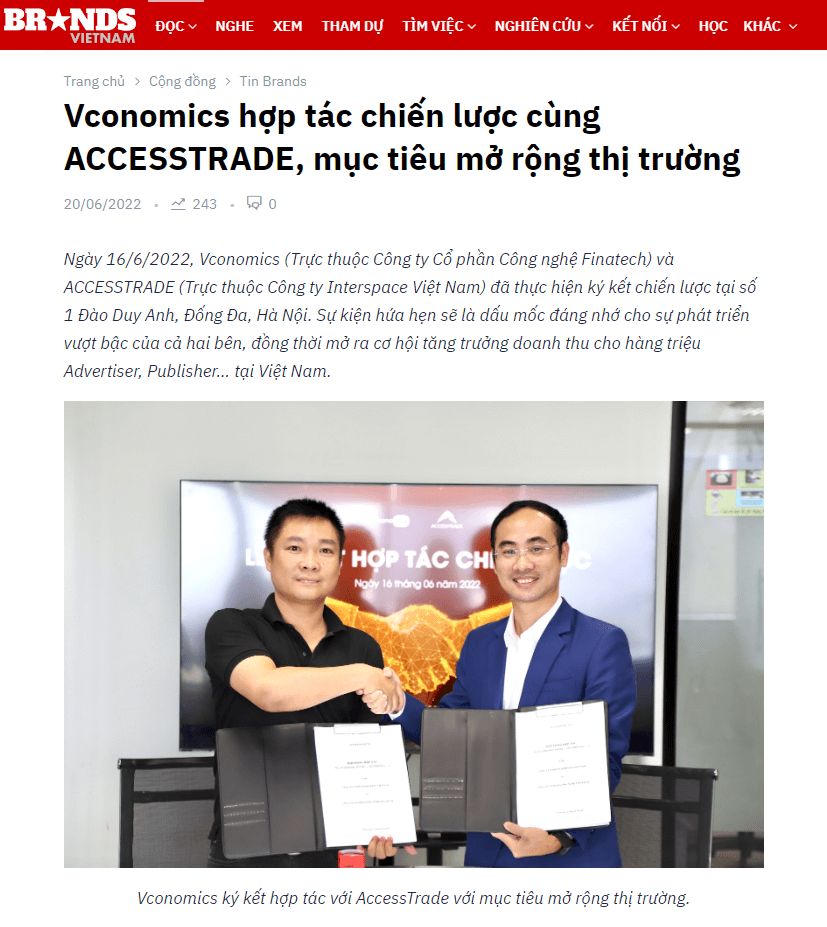 3.3. CafeBiz
Cafebiz – In-depth analysis and commentary on the business environment, information on the strategic partnership between Vconomics and AccessTrade.
3.4. Coincu
Coincu News – The leading news site on the Crypto market conducted an exclusive interview with Mr. Nguyen The Cuong – Co-founder & CEO of Vconomics.
Mr. Cuong commented on the current bear market, as well as shared opportunities and development orientation of Vconomics during this unfavorable market period.
3.5. Education online
Giaoduc.edu.vn – The magazine of the People's Committee of Ho Chi Minh City reported on the cooperation, participation and contribution of Vconomics in the event "International Conference on Blockchain and Advanced Financial Management" (ICBAFM 2022).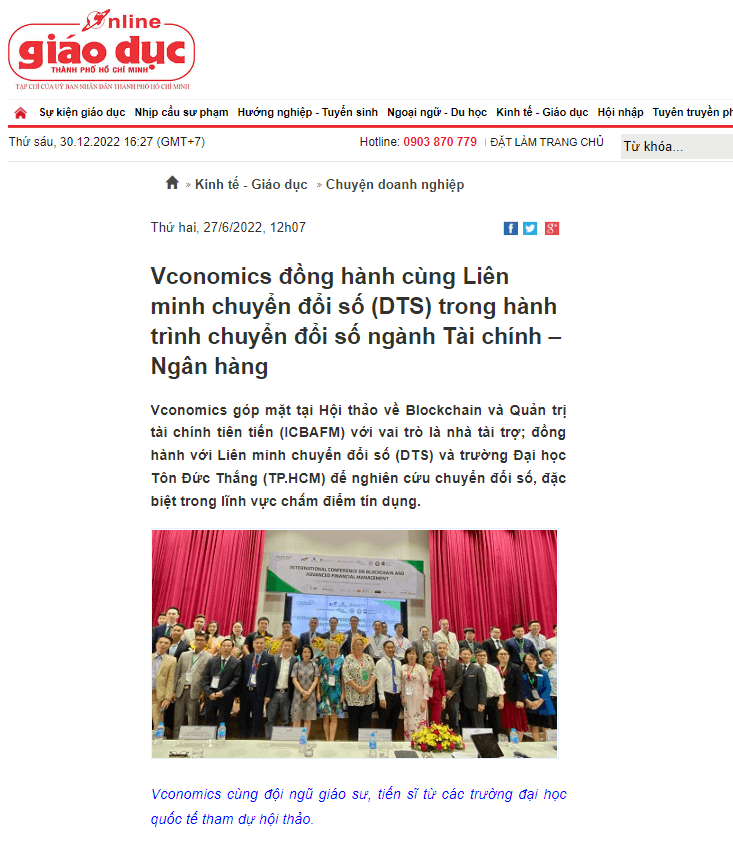 3.6. Stock investment
Tinnhanhchungkhoan.vn – The investment newspaper's special page has reported on the journey of digitizing the economy of Vconomics and AIS.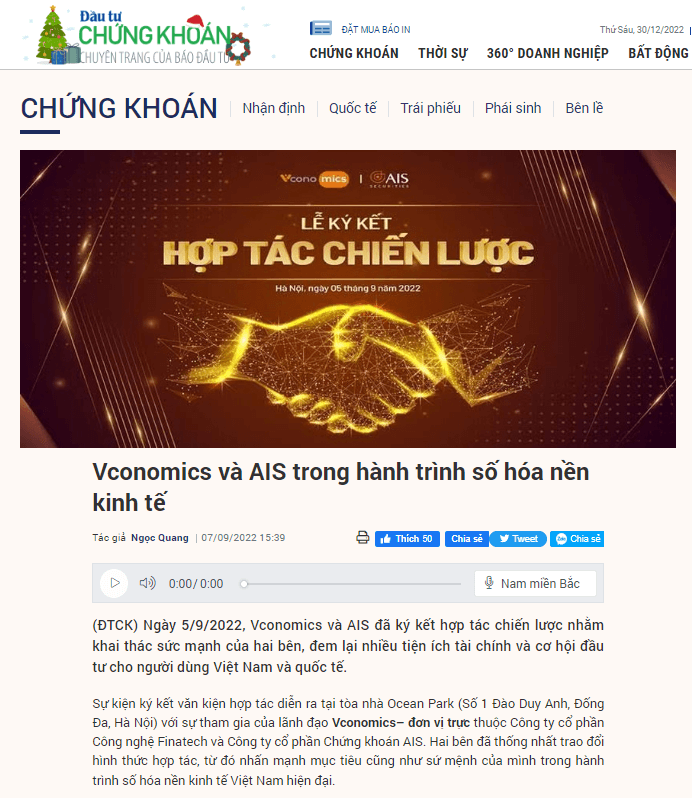 4. Events and Activities
4.1. International Conference on Blockchain and Advanced Financial Meeting (ICBAFM 2022)
Mr. Nguyen The Cuong shared about the topic "Vconomics and Blockchain Credit Scoring system"
Organized Defibattle Tournament for students of Ton Duc Thang University in Ho Chi Minh City, Van Hien University…
Connect and exchange with domestic and foreign partners.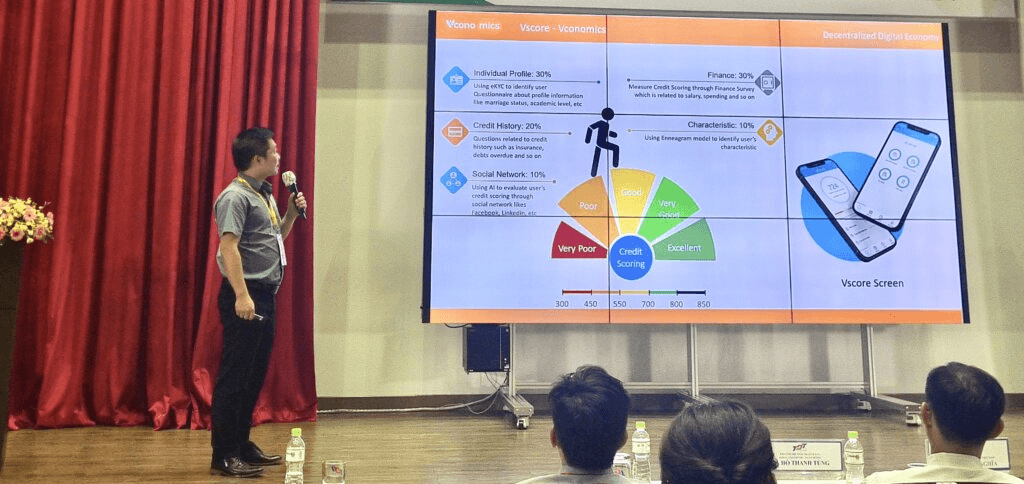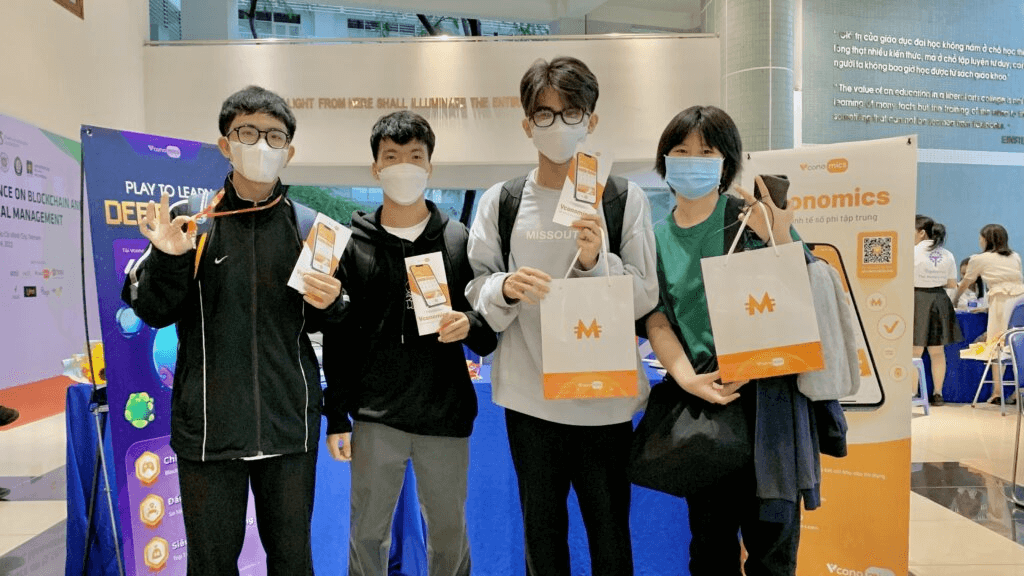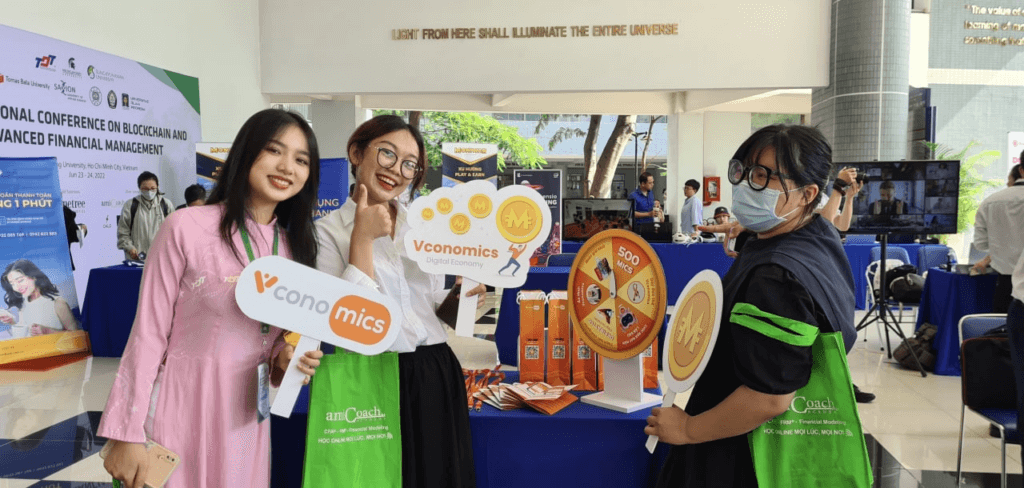 4.2. S.H.E Blockchain
Connected with Huobi Global, Cryptoleak VN… and many other media partners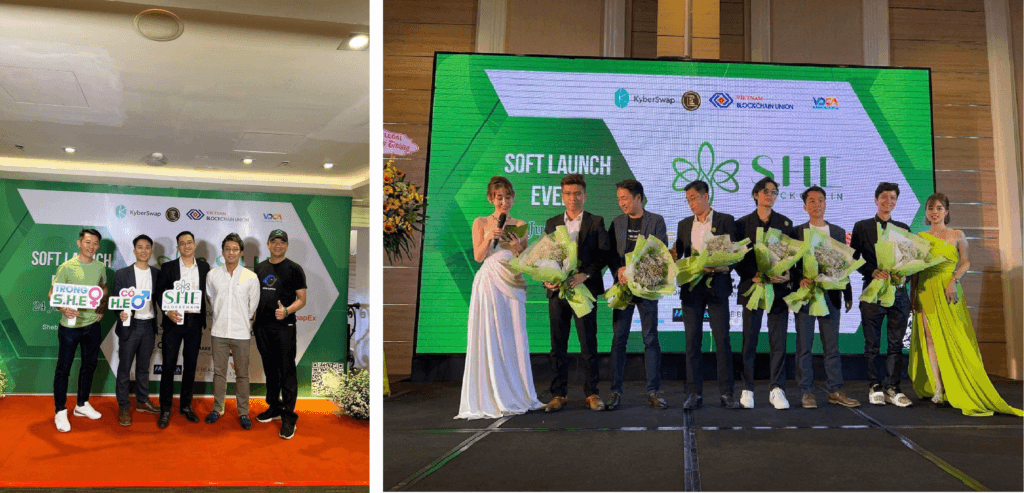 4.4. "Vietnam Advertising Association accompanies national digital transformation"
Connected with Vietnamese partners
Exchanged experiences of digital transformation to adapt to the trend of society and access to the latest technology trends.
4.5. Vietnam Blockchain Summit 2022
Connected with industry leaders like Binance, CoinW, FTX, BingX,…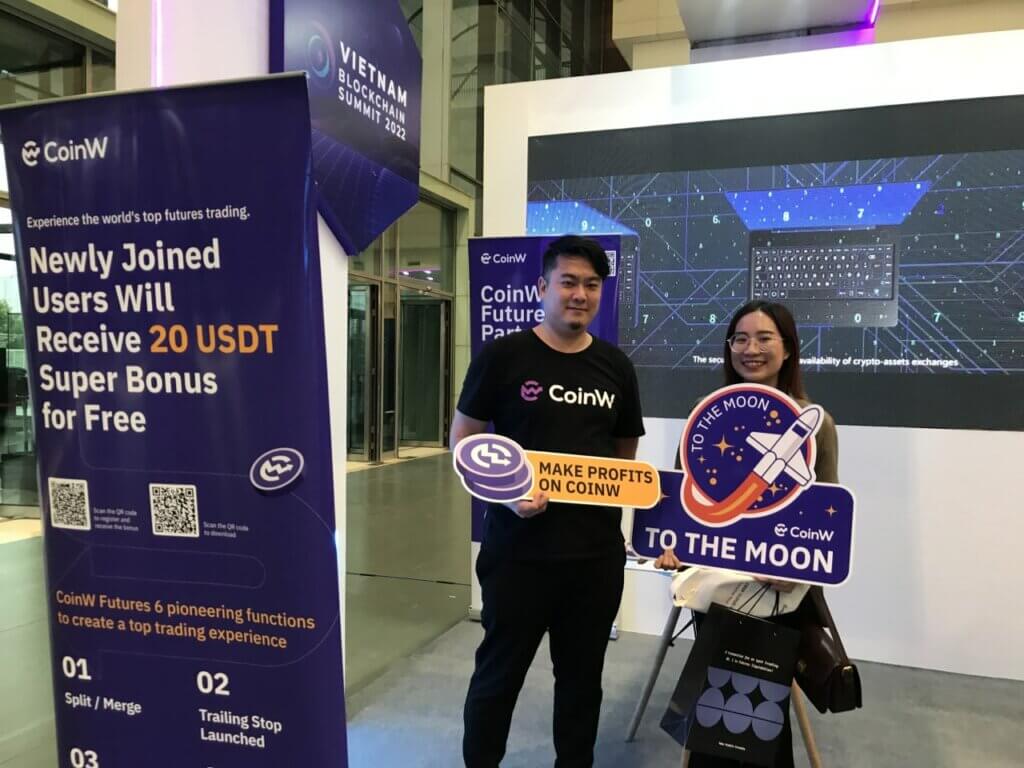 4.6. KOC Connected Vietnam 2022
Connected with KOC nationwide to promote the project
4.7. Vconomics' 1st Birthday
Organised many battles at Defibattle with HUGE rewards
Promotion "Referral members, double reward" attracted large registers.
Airdrop thousands of EXCLUSIVE voucher with high value when purchasing.
4.8. Charity journey "Light up the SMILE 2022"
Accompanied GMO Z.com Vietnam, Tenten.vn and InfoQ Vietnam launched the charity program "Light up the smiles of the highlands 2022".
Directly donated and gave to schools in Ban Puong, Ban La – belonging to Hoa Hong Kindergarten, Chieng Khuong commune, Song Ma district, Son La province.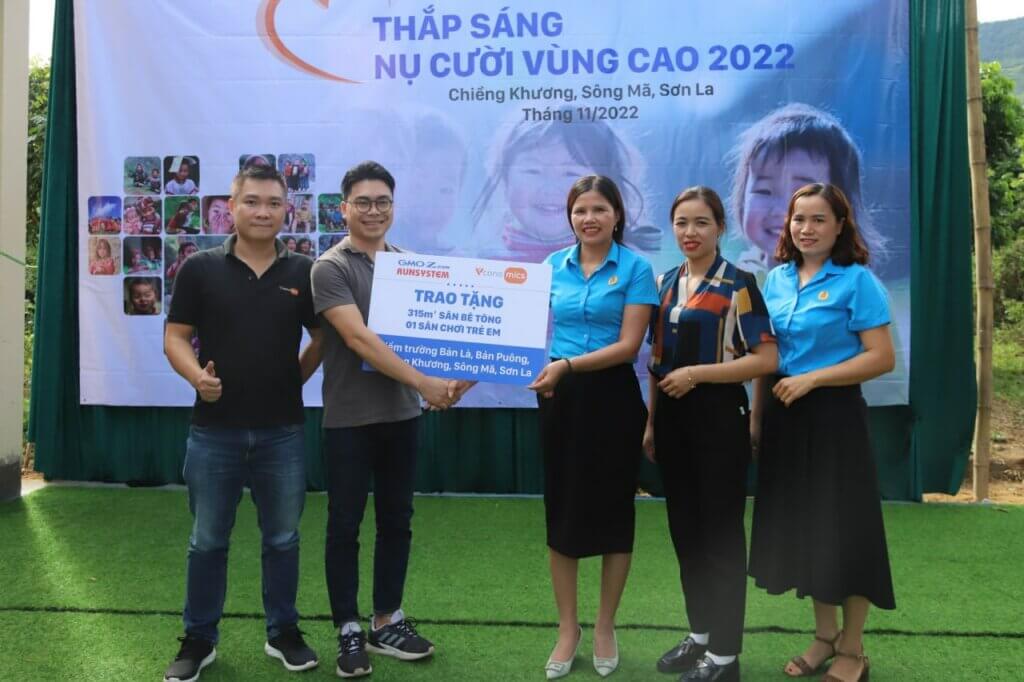 5. Difficulties of Crypto industry 2022
The dump of the biggest exchanges in the world collapsed the market. This "domino" had a significant affect to all crypto industry, and not except Vconomics.
As The Block Research, 2022 has been a tumultuous year for cryptocurrencies. The total crypto market capitalization in 2022 opened the year at $2.2 trillion in January and subsequently hit an annual low of $1 trillion in November.
Bitcoin's price fell below its 2017-cycle high in June for the first time since January 2021. Although bitcoin's price dropped 64.1% year-to-date, its dominance remains stable at 40% of total digital asset market capitalization.
As the market experienced a steep downturn, stablecoins became the exit gateway. The annual stablecoin adjusted transaction volume crossed $7.2 trillion in 2022, a 19% year-on-year growth, yet the aggregate stablecoin supply contracted 2.4% to $140 billion year-to-date. The discrepancy between high transaction volume and shrinking supply suggests that crypto market participants may have cashed out to fiat.
6. Opportunities, Challenges and Strategy in 2023
In 2023, Vconomics will continue to look for cooperation opportunities with domestic and foreign partners with the purpose of achieving great achievements in the field of Finance – Technology. We will launch Vlending – Peer-to-peer crypto credit platform and perfect the ecosystem, simultaneously cooperate with banks to bring practical value to the community.
To achieve these aims, Vconomics desperately needs the support of global users. Each of you is the important factor contributing to the success of Vconomics in the present and in the future.
Thank Vconomics community for always supporting the project. We will close 2022 with pride but not with pride, because we know that there are many new milestones that we need to conquer.
2023 will be a year full of opportunities but also challenges for Vconomics. With the constant efforts and the right orientation of the founding team, Vconomics promises to achieve brilliant achievements, getting closer to the goal of NO. 1 in the ASIAN Financial – Technology market.
---
Download Vconomics and get FREE MICS !
Join Vconomics channels to get extra FREE MICS
Telegram – Facebook – Twitter – Medium – Tiktok – Instagram – Youtube
Website: https://vconomics.io
Email: [email protected]
VCONOMICS – DECENTRALIZED DIGITAL ECONOMY