On January 04, 2022, in the 7th AMA, Vconomics and guest speakers from Vietnam E-commerce Association (VECOM) and Digital Transformation for SMEs (DTS) has talked about Vconomics potential and the event MICS listing PancakeSwap on 10 January 2022.
1. Details
Time: 13h00 UTC Tue, 04th Jan. 2022
Format: Livestream Facebook
Speakers:
Mr. Nguyen The Cuong: Co-Founder & CEO Vconomics
Mr. Tran Duc Thong: Co-Founder & CTO Vconomics
Mr. Dzung Nguyen: Chairman at VECOM – Vietname E-commerce Association
Mr. Leon Truong: Chairman at DTS – Digital Transformation SMEs
2. Recap
Host: Why have you decided to become Vconomics advisor?
Chairman at Vietnam E-Commerce Association (VECOM): Z-com is one of the digital transformation companies that is close to Vietnam E-Commerce Association, and the company is the bridge between me and Vconomics. In the field of e-commerce, Fintech companies with credit scoring tools are very important. Vietnamese people tend to be less involved in financial activities such as taking out loans, while it is an important part in building a credit profile. Vconomics provides microfinance services that help users understand the importance of their credit score, build their credit profiles, and guide them to improve their credit score before accessing financial institutions. In particular, in the field of e-commerce, buyers, sellers and even carriers all need a credit score so that parties can make decisions about lending or later payment.
Chairman at Digital Transformation for SMEs (DTS): Project social value is impressive. Vconomics puts users' financial data in a digital space and turns it into NFTs. This data is encrypted for each individual and stored on transparent and decentralized blockchain network. Credit scores provided by Vconomics will be a reference for financial institutions before providing services to customers. Vconomics also limits usury by providing a variety of financial opportunities. Digital transformation in the field of personal finance is not only for those in difficulties, but anyone can use financial leverage to increase their investment opportunities.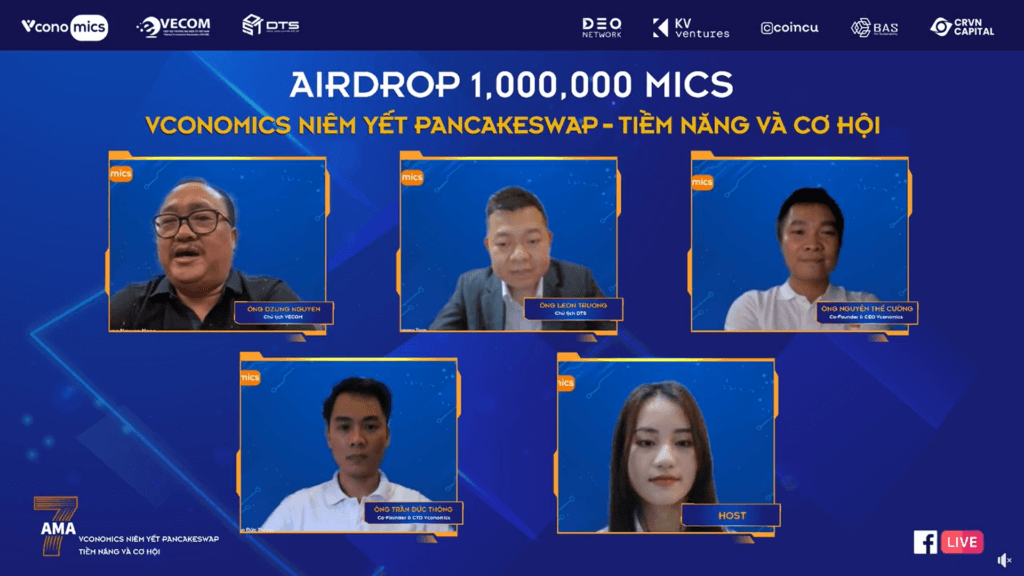 Host: Besides trading and investing, what is the application of MICS in the digital economy?
Co-Founder & CEO Vconomics: MICS can be used on the P2P Lending platform named Vlending, to buy and sell NFTs on Vex, to buy vouchers at preferential prices. Bankers can also pay fees in MICS to reach customers.
Host: Why is MICS listed on a decentralized exchange?
Co-Founder & CTO Vconomics: Unlike the traditional centralized exchange that is managed by an intermediary, the decentralized exchange is operated by smart contracts without the intervention of a third party. According to the project slogan – Decentralized Digital Economy, we list MICS on a decentralized exchange so that users can fully manage, trade and store their assets.
Host: How does Vconomics protect user accounts?
Co-Founder & CTO Vconomics: We will update more account security features on Vconomics application. The first is e-mail alerts if the account is signed in from an unknown device or IP address. Next, there'll be 2-factor authentication via Google Authenticator and e-mail. In addition, users need to be careful and protect their own accounts by not sharing accounts, protecting e-mail addresses, setting strong passwords,etc.
Host: Recently, there are some project tokens that lost value after it's listed. Does Vconomis have any policy to protect MICS value and investors benefit?
Co-Founder & CEO Vconomics: The project carefully considers the supply and demand of MICS. In the whitepaper, the supply is limited and depends on community development. The number of MICS invested by large funds follows 1-year vesting policy and the supply from this group is also very limited. Most of the supply is in community wallet. We give priority to those who join the project in the early stage, making the growth rate of MICS supply lower than users growth rate. We, the project team, make the profiles and wallet addresses of founders and advisors public so that anyone can mornitor and track. Our MICS is distributed in 5 years, the earliest distribution is in November 2022. Transparency is the most important criterion of the project.
Host: Is there a fee to transfer MICS from Vconomics app to personal blockchain wallet?
Co-Founder & CEO Vconomics: Investors pay no fee to transfer MICS to personal blockchain wallets. With free MICS airdrop, within the next 6 months we support 100% of blockchain transaction fees.
Host: After PancakeSwap listing, which coin/token can be used to buy MICS?
Co-Founder & CTO Vconomics: Users can exchange MICS with BUSD on PancakeSwap.
Host: What are the top 3 priorities in Vconomics' plan in 2022?
Co-Founder & CTO Vconomics: Listing MICS on PancakeSwap decentralized exchange on January 10, 2022; listing MICS on world's top 5 centralized exchanges and cooperating with partners to bring more valuesto the community.
3. To conclude
The 7th issue of the AMA with two special guest speakers from Vietnam E-commerce Association and Digital Transformation for SMEs has received much attention and questions from the audience. Hopefully this summary will answer your questions about Vconomics and PancakeSwap listing on 10 January 2022 ! Let's look forward to this special event !
Download Vconomics and get FREE MICS !
Join Vconomics channels to get extra FREE MICS
Telegram – Facebook – Twitter – Medium – Tiktok – Instagram – Youtube
Website: https://vconomics.io
Email: [email protected]
VCONOMICS – DECENTRALIZED DIGITAL ECONOMY