MICS is considered as a currency that is circulated and used in the Vconomics digital economy. You need MICS to make transactions, experience services and do exciting financial activities. Joining in the early stage the virtual environment that simulates Vietnam's digital economy gives you many special incentives. Let's discover how to earn MICS in simple, easy and convenient ways.
1. The importance of MICS in the digital economy Vconomics
Based on Blockchain technology, MICS promotes its strengths in trading digital assets. They exist in a "decentralized" form, meaning that everyone can mine and manage them. People use MICS to trade or staking for a profit, and can be collected (limitedly) by completing simple tasks.
MICS is used in all transactions in Vconomics ecosystem, which allows users to enjoy a convenient digital economy, while creates long-term value for investment and financial accumulation.
2. How to get free MICS
1. Register and activate your account
Upon successful registration and account activation, you receive 50 MICS. Remember that you need to enter the referral code of your friends, relatives, colleagues, etc. in the "Referral code" box during account registration. If you skip this step, you will not be able to receive MICS after successful account activation.
Please note that if the referee registers via Google/Facebook/iCloud, the referrer will not be credited with MICS. In order for both referee and referrer to receive MICS, the referee must register via the referral link or enter the referral code.
2. Daily attendance
Step 1: Select "Reward" at the bottom toolbar
Step 2: Tap "Click to get free MICS". Your MICS amount will then be updated and a notification of successful attendance check will be sent to you. (**)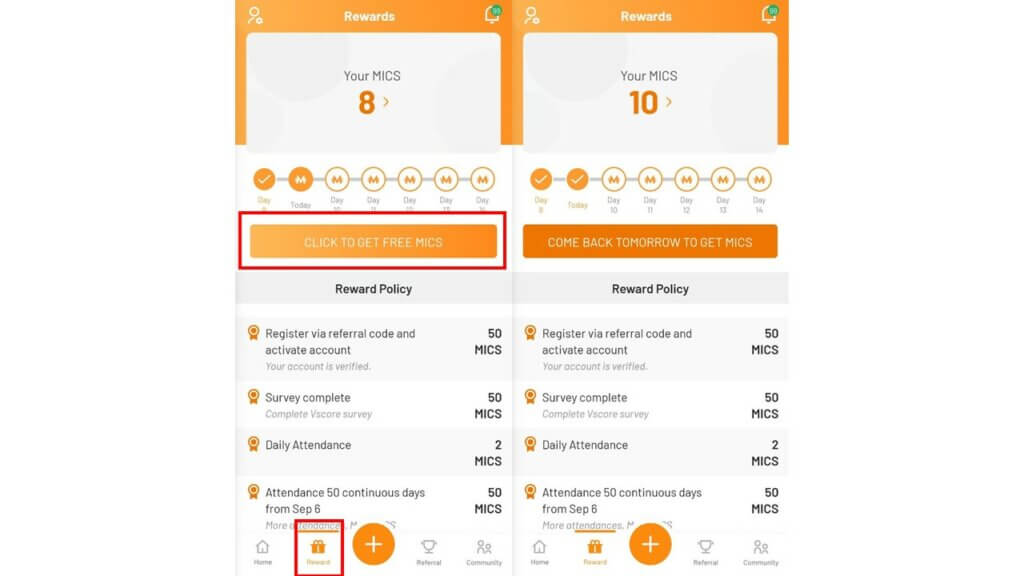 (**) Note: You can check-in and receive MICS once a day. Check attendance everyday to have the opportunity to receive more MICS from special attendance-check events.
3. Survey Completion
Step 1: Go to "Reward" on toolbar
Step 2: Tap "Survey complete" to fill in a credit survey (using Vscore). Or you can select "Vscore" from the Circle (plus sign at the middle of the tool bar).
Step 3: Complete 4 criterias including "Credit history – Personal profile – Finance – Characteristics".
Step 4: After finishing the survey, go back to the main menu by tapping the arrow at the top left of the screen. MICS will be added to your account.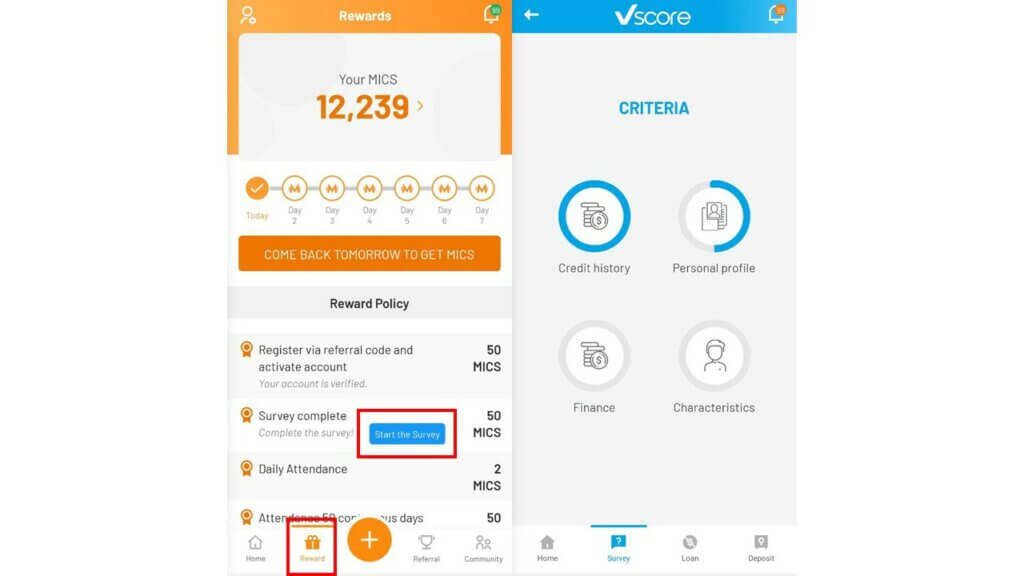 4. Vconomics reference
Step 1: Go to "Referral" in the toolbar.
Step 2: Get your Referral ID, URL or QR code and send it to your friends.
See more: How to refer Vconomics to friends & get FREE MICS
5. Other ways to get MICS:
5.1. Join Godsend event everyday
"Godsend" is a lucky number game for all Vconomics users. It is an EXCLUSIVE LIVE event on Vconomics everyday at 7.30 p.m.
Users have the opportunity to get a godsend of up to 1 million MICS when picking correctly all 06 numbers of the Special Godsend prize. The reward is automatically granted to the user's MICS wallet on Vconomics.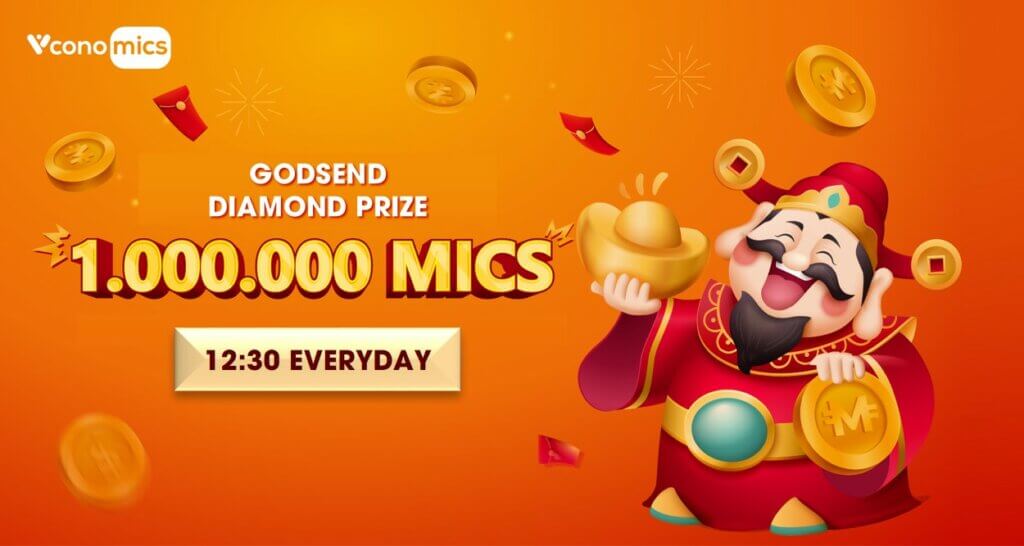 Please refer to How to receive Godsent MICS HERE.
5.2. Participate in events on social channels
Vconomics continuously carries out events for users, through which you can receive thousands of MICS for free. The event is updated regularly on our Twitter, Telegram & Facebook channels. Follow them not to miss out on any of them!
5.3. Create NFTs in Vfactory and list NFTs on Vex
Vfactory and Vex are so promising in bringing users interesting experiences, at the same time opening up lucrative financial investment opportunities for NFT creators in the technology era.
Please refer to How to create NFT HERE.
Please refer to How to list and sell NFT on VEx HERE.
5.4. Trade NFTs on VEx
Owning and trading NFTs is a smart way of business. Vex provides interesting features and attractive investment opportunities based on Blockchain technology and Non-fungible Token.
Please refer to How to buy NFTs HERE.
6. How to check MICS Received History
Click on Your MICS on the Reward screen to check your MICS received history.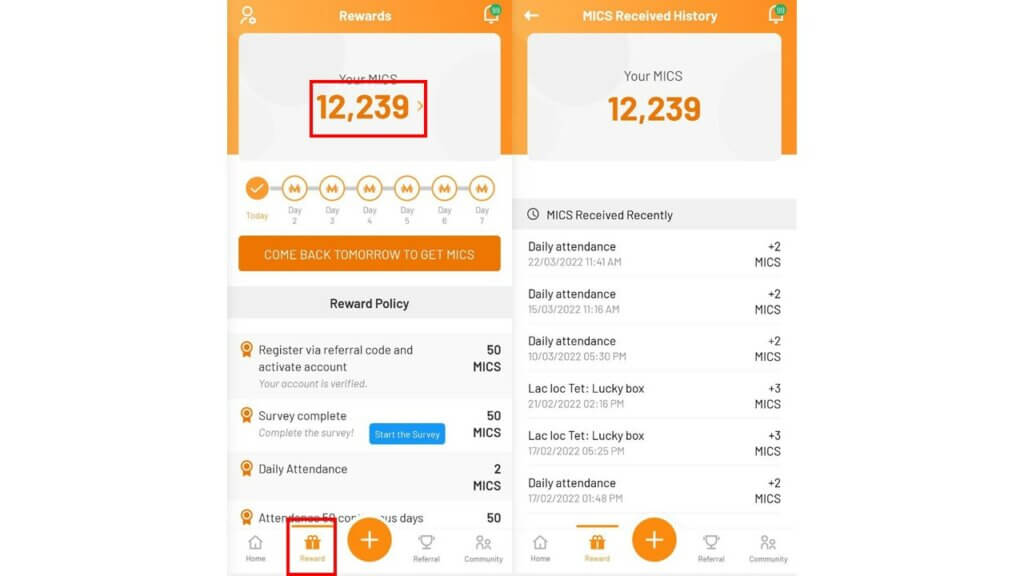 Besides, you can check MICS balance in your wallet:
You can easily get MICS for free by completing missions, participating in events or making transactions on Vconomics. For any questions, please contact Vconomics team for support!
Download Vconomics and get FREE MICS !
Join Vconomics channels to get extra FREE MICS
Telegram – Facebook – Twitter – Medium – Tiktok – Instagram – Youtube
Website: https://vconomics.io
Email: [email protected]